It's Alive!
Create your own needle felted creature with Art Doll
extraordinaire, Kylie Dexter

In English + English subtitles
You participate from home
In this special course, internationally exhibiting art doll creator Kylie Dexter (a.k.a Dolldrums) will teach you how to needle felt your own creatures with coloured wool.
By the end of this course, you will have the knowledge and experience to create your own unique  and magnificent, three-dimensional creatures.
You can make your creatures funny, happy, sad or something completely different - you decide for yourself.
Your only limit is your imagination!
This step-by-step course is perfect for beginners, and Kylie's expert advice will guide you through the knowledge and techniques you will need to know.
This is an easy and - most importantly - fun way to learn about the world of 3D needle felting, a craft which is notoriously soothing and addictive at the same time.
Everything you need to know
"With this course, you will learn everything you need to know to start – or develop – your needle felting journey.
The techniques and knowledge shared will give you the foundations to create an endless array of different characters of all shapes and sizes.
From small, personalized gifts, to intricate art dolls, or even recreating your favourite character or person: it is all possible!"
In this six-part, easy-to-follow course,
you will learn:
⁕ What, exactly, is felting?
⁕ The different tools and materials needed for felting: the different options available, advice on Kylie's personal recommendations, and where to purchase them.
⁕ The basic techniques when felting, and easy projects to practice these skills. (You may find yourself making perfect little gifts for your loved ones along the way!)
⁕ How to felt using stencils, before moving on to mastering free-hand shapes.
⁕ How to create details when felting.
⁕ How to make an armature and build your design around this.
⁕ And finally, how to use all of these skills to create your very own family of art dolls.
"Anything is possible.
It's time to let your imagination run wild!"
If you would like to learn more, sign up to our six-part course today!
Note: all tutorials are in English and with optional English subtitles.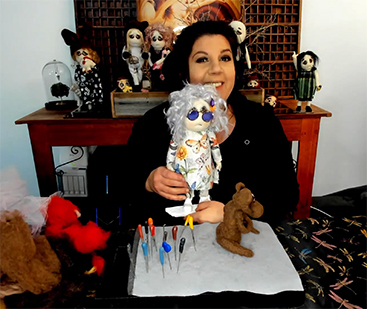 Your dedicated teacher
Based in Australia, Kylie Dexter is a needle felt art doll extraordinaire.
Under her artist name Dolldrums, her work has been shown in local and international Galleries including:
Dollirium Art doll emporium, ArtBoy Gallery (Prahran), MONA gallery shop (Tasmania), Arch Enemy Arts (Philadelphia), Cactus Gallery (LA), The Old Jaffa Museum (Israel), The Good Goat Gallery (Ohio), Weswal Gallery (USA), Penumbra Gallery (Portugal), and Beautiful Bizarre Magazine's curated show at Modern Eden Gallery (San Francisco)!
Dolldrums has also been published in ADQ magazine as a featured artist, as well as Damaged magazine, Doll Collector, a Beautiful Bizarre Magazine web feature, and Mornington Life magazines.
In her own words:
"When I first started making these dolls, I wanted to give life to a world that existed in my imagination; it was a vivid and very real world that formed early in my childhood.
A world filled with distinct characters, lifelike dreams and strange experiences.
When I first experienced movies like The Dark Crystal, Never Ending Story and Labyrinth in my pre-teen years, it ignited a passion to bring life to puppet-like characters - although it would take many more years to fully realise my vision.
I draw inspiration from anything the evokes a sense of mystery. And I think it's time to restore a balance within the artistry of dolls."
Feedback and Peer Support
Inside the art school's amazing forum, you can get all of the feedback you want.
We have highly competent artists who are moderators within the forum. This means that you are always guaranteed a safe and pleasant environment, constructive discussions, and answers to your questions.
Our forum creates a unique atmosphere and place for knowledge sharing that you won't find anywhere else.
While our forum at Anne's International School of Art is still growing in these early days of us opening, our Danish sister school's forum has been running successfully for many years.
You can see here what Torill Loebenstein, a visual artist and member of our sister school, tells us about the forum:
"If you use the forum inside the art school to bounce ideas off other members and gain feedback, you can easily get the same benefit as if you had participated in a physical course.
This does require that you can formulate what you would like feedback on. Thankfully, the art school even has a small tutorial video on that!
I would recommend the art school to anyone who wants to learn more and wants to move, as well as to get new inspiration for their artistic activities."
You learn it all at home
– no matter where you live in the world
You will have full access to the entire course IMMEDIATELY after your registration.
The course takes place online, so you will be able to access and watch them on your own computer, iPad or tablet.
Therefore, you can join us wherever you are in the world, as long as you have an Internet connection.
How do you participate in the course?
Simply join Anne's International School of Art before the registration deadline: Sunday 16 January at 21:00 (CET). 

(Notice that the timezone for the deadline is Central European Time)
Immediately after you have registered for the art school, you will receive a welcome email with direct links and your personal login to everything.
You can read more about the art school further down the page here.
Hvordan bliver jeg medlem i
→ Kunstskolen & Kunstnerfællesskabet
Annes Atelier
og som en vanvittig ekstra bonus
også jeres nye internationale kunstskole:
→ Anne´s International
School of Art?
?
①
Du tilmelder dig Annes Atelier ved at klikke på den prismodel, der passer dig bedst:
②
Udfyld den tilmeldingsformular du kommer ind på og klik på den grønne:
"Fortsæt→" - knap.
③
Straks efter din tilmelding til kunstskolen modtager du mails med dine loginoplysninger og med et link til kunstskolens medlemssider.
Du modtager vores mails straks efter din tilmelding – husk at kigge i dit spamfilter, hvis du ikke kan finde vores mails.

Spørgsmål?
Måske sidder du med et par spørgsmål, så er du meget velkommen til at skrive til os på:
– men læs først vores svar på forskellige ofte stillede spørgsmål herunder.
Måske finder du allerede her svar på dit spørgsmål:
➞ Hvornår får jeg adgang til kurset?
Du får fuld adgang både til kurset "It´s Alive" – samt til alt materialet på kunstskolens medlemssider, straks når du melder dig ind i Kunstskolen & Kunstnerfællesskabet Annes Atelier - da du automatisk også får fuld adgang til vores internationale kunstskole: Annes International School of Art, hvor du finder kurset.
➞ Viser man sine ting frem for jer og/eller for andre medlemmer?
Det er 100 % op til dig selv, om du har lyst til det.
Inde i kurset og i kunstskolen har vi nemlig et sparringsforum, hvor du er mere end velkommen til at dele fotos af dit arbejde, - men det er helt op til dig selv.
I forummet kan du se, hvad andre deler og du har rig mulighed for at sparre med de andre deltagere om de forskellige moduler.
Netværket inde i kunstskolen er legendarisk. Der sparres, gives feedback og udvikles i fællesskab, så det er en ren fest at deltage i.
➞ Jeg har ikke tid til at gennemføre kurset før om nogle uger. Kan jeg stadig det?
Jeps. Så længe du er medlem i Kunstskolen & Kunstnerfællesskabet Annes Atelier, har du også adgang til de kurser, du er tilmeldt.
➞ Hvad koster det?
Du vælger selv den prismodel, der passer dig bedst:
Du kan se prisoversigten her: https://www.annes-atelier.dk/priser/
Når du er medlem, kan du løbende kvit og frit deltage i ALLE de ekstra online kursusforløb mm., som vi tilbyder - udover det nye materiale, der kommer inde i kunstskolerne hver måned.
I Kunstskolen & Kunstnerfællesskabet Annes Atelier og Anne´s International School of Art er der ALDRIG noget, der koster ekstra.
➞ Hvordan foregår det, når jeg melder mig ind?
Straks efter din tilmelding modtager du en velkomstmail med dine personlige loginoplysninger til kunstskolens medlemssider, hvor du finder alle månedstemaerne, teknikkerne, videovejledningerne, panelsvarene osv.
Melder du dig ind inden søndag den 16. januar 2022 kl. 21.00, så ligger kurset "It´s Alive!" med Kylie Dexter også klar til dig.
➞ Hvordan fornyer eller afbryder jeg mit medlemskab?
Dit medlemskab starter den dato, du tilmelder dig og efter den bindingsperiode, du har valgt, fornyes medlemskabet automatisk månedligt, indtil du selv vælger at afbryde det.
Kontingentet betales månedligt samme dag i måneden, som den dag du tilmelder dig.
Du kan afbryde dit medlemskab, ved at skrive til os på: support@annes-atelier.dk. Du skal blot skrive til os senest en hverdag inden fornyelsen af dit medlemskab.
➞ Hvad får jeg som medlem i Kunstskolen & Kunstnerfællesskabet Annes Atelier – udover kurset?
Du får, straks når du tilmelder dig kunstskolen, foruden din adgang til kurset "It´s Alive" også fuld adgang til både hele den danske kunstskole og hele den internationale kunstskole:
Her kan du se alt materialet du får adgang til i den danske kunstskole
og her kan du se alt materialet, du får adgang til i den internationale kunstskole.
Du kan således med det samme gå i gang med kurset – samt alt det andet materiale, der venter på dig på begge kunstskoler.
Der kommer desuden hele tiden løbende nyt ind på medlemssiderne, så du har altid noget at glæde dig til. Du kan læse meget mere om Kunstskolen & Kunstnerfællesskabet Annes Atelier lige her og mere om Annes´International School of Art lige her.